Nowadays, being beautiful is a top priority for any woman. Makeup tips are used to hide anything that is not perfect in your face, the clothes are designed to draw attention exclusively to your most neat parts and hairdressers are always there to help your hair become as beautiful as those of a movie star.
But what about the beach? Needless to say, you feel much more exposed when you go there, as it seems virtually impossible to hide anything you do not like about your appearance. But is this really the case? Stylists and swimsuit designers say the opposite.
The designers who create swimsuits say that if a woman knows how to make a swimsuit choice, she is likely to give the impression of a beautiful body, even if there are actually a few perfect things on this subject.
One of the essential choices a woman has to make is to choose between a two-piece swimsuit and a one-piece swimsuit. At the moment, most women prefer a two-piece swimsuit, but designers say it's only a matter of time for one-piece swimsuits to regain their popularity, as they offer certain benefits that deserve to be taken into consideration. Here are a few:
First, they are much safer and more comfortable to wear. For example, when wearing a two-piece swimsuit, you must constantly ask yourself if the top is in place or if a stronger wave has left you shirtless. You know that this happens often and that it is almost impossible to avoid it.
However, if you wear a one-piece swimsuit, you will not have to worry about it.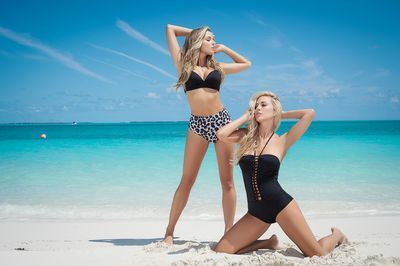 Second, this type of swimsuit is more recommended for girls / women who have stomach problems. If you have not had the opportunity to work your abdominals to look perfect, it's a good idea to cover your stomach when you go to the beach. In this way, you will avoid annoying remarks and you will feel much more confident.
If you have just given birth, but still want to enjoy a few days in the sun, the one-piece swimsuit is what you need. In addition to being aesthetic, doctors recommend this type of swimsuit because it helps the belly to find the dimensions it had before your pregnancy. However, do not rely solely on that. Continue the work with the postnatal exercises, if you want to find your slender body.
These are just a few of the many benefits of one-piece swimsuits. So, even if you're a fan of two-piece swimsuits, try it and see what the other person feels. After all, the most important thing is that you feel good. Sunny days at the beach!
Similar articles
---
Comments (0)
Leave a comment