A vehicle that breaks down often makes for a frustrated owner. Lateness, embarrassment, and repair costs can turn your life into a nightmare.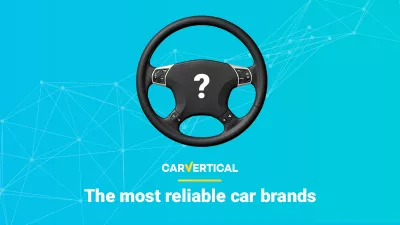 ---
---
A vehicle that breaks down often makes for a frustrated owner. Lateness, embarrassment, and repair costs can turn your life into a nightmare.
Reliability constitutes a quality you should seek in a used car. So, what are the most reliable car brands? Next, you'll find car reliability rankings according to carVertical, to help you make an informed decision. But first, let's briefly explain the process.
How was car reliability evaluated?
We've compiled the most reliable car brands list using a telling criterion - damage.
The findings are based on carVertical's vehicle history reports.
The used car rankings you're about to see are derived from each brand's percentage of damaged cars from the total number of analysed brand cars.
Let's get started with the list of the most reliable used car brands.
1. KIA - 23,47%
Kia's slogan The power to surprise certainly lived up to the hype. Even with more than 1.4 million vehicles produce every year, the South Korean automaker takes the number one spot with only 23,47% of all analyzed models being damaged.
But the most reliable brand of car isn't flawless, and its vehicles are prone to:
Common electric power steering failure
Parking brake failure
Possible DPF failure
The company's focus on reliability should come as no surprise, Kia models feature advanced safety systems, including forward collision avoidance, autonomous emergency braking, and vehicle stability management.
2. Hyundai - 26,36%
Hyundai's Uslan factory is the largest automotive facility in Asia, spreading over a mind-boggling 54 million square feet (roughly 5 square kilometers). Hyundai clinches second place with damage occurring to 26,36% of all analyzed models.
However, Hyundai second-hand cars can experience common failures:
Rear sub frame corrosion
Parking brake problems
Weak windshields
Why such a good car reliability ranking? Well, Hyundai is the only motor company that manufactures its own ultra-high strength steel. The automaker also makes the Genesis, one of the safest cars in the world.
3. Volkswagen - 27,27%
German for The people's car, Volkswagen produced the legendary beetle, a 20th-century icon that sold more than 21.5 million units. The automotive manufacturer ranks third among carVertical's most reliable car brands, showing damage to 27,27% of all analyzed models.
Although sturdy, Volkswagen cars tend to face malfunctions, particularly:
Dual mass flywheel failure
Manual transmission may fail
Problems with the ABS / ESP module
Volkswagen strives to protect car occupants through a host of safety features such as adaptive cruise control, crash imminent braking, and blind spot detection.
4. Nissan - 27,79%
Nissan was the world's largest electric vehicle manufacturer for a long time before Tesla took the world by storm. With space rockets among their past creations, the Japanese automobile manufacturer racked up damage to 27,79% of all analyzed models.
But as durable as they are, Nissan vehicles are vulnerable to multiple issues:
Differential failure
Very common structural corrosion in the center chassis rail
Automatic transmission heat exchanger can fail
Nissan has always emphasized safety, developing innovative technologies, such as the zone body construction. Safety Shield 360, and intelligent mobility
5. Mazda - 29,89%
After starting as a cork manufacturing business, the Japanese company adapted the first automotive miller cycle engine, an engine meant for ships, power plants, and locomotives. Mazda sustained damage to 29,89% of all analyzed models according to carVertical's database.
Most commonly, the brand's vehicles are susceptible to:
Turbo failures on Skyactive D engines
Fuel injector seal failure on diesel engines
Very common ABS pump failure
The mediocre showing doesn't take away that its models have a few impressive safety features. For example, Mazda's i-Activesense encompasses advanced technologies that recognize potential hazards, avert accidents, and reduce collision severity.
6. Audi - 30,08%
Latin for Listen, a translation of its founder's surname, Audi has a reputation for luxury and performance, even as a used car. Before its acquisition by the Volkswagen Group, Audi once teamed up with three other brands to form Auto Union GT. The logo's four rings symbolize that merger.
Audi missed 5th place by a tiny margin with 30,08% of all analyzed models receiving damage.
The automotive company's cars show a tendency for the following failures:
Extensive clutch wear
Power steering failure
Manual transmission failures
Strangely, Audi has a long history with safety, conducting its first crash test more than 80 years ago. Nowadays, the German automaker's cars come with some of the most advanced active, passive, and driver-assistance safety systems.
7. Ford - 32,18%
The automotive company's founder, Henry Ford, shaped the automotive industry of today by inventing the revolutionary moving assembly line, which reduced car production time from 700 to an incredible 90 minutes. Therefore, it's baffling that the well-known car manufacturer ranks so low, but carVertical's data shows damage to 32,18% of all analyzed Ford models.
Ford's models seem inclined to experience:
Dual mass flywheel failure
Clutch, power steering pump failure
CVT automatic transmission failures
The American automaker has long stressed the importance of driver, occupant, and vehicle safety. A prime example of that is Ford's Safety Canopy System, which deploys curtain airbags in the event of a side or rollover accident.
8. Mercedes-Benz - 32,36%
The renowned German automaker introduced what's regarded as the first gasoline-powered automobile in 1886. Whether brand new or a second-hand, a Mercedes-Benz car conjures up luxury, however, a whopping 32,36% of all analyzed Mercedes-Benz were damaged according to carVertical.
Despite their remarkable quality, the Mercs suffer from a few common issues:
Headlights can ingress moisture
Fuel injector seal failure on diesel engines,
Very common Sensotronic Braking System failure
But the brand with The best or nothing slogan has pioneered automotive design, technology, and innovation. From the early versions of ABS to Pre-Safe, Mercedes-Benz engineers have introduced several safety features that are now commonplace in the industry.
9. Toyota - 33,79%
The Japanese automotive company produces more than 10 million vehicles per year. The company also makes the Toyota Corolla, the best-selling car in the world with more than 40 million units sold worldwide. Shockingly, 33,79% of all Toyota models analyzed were damaged.
Toyota's vehicles seem likely to experience a few common snags:
Rear suspension height sensor failure
A/C failure
Prone to severe corrosion.
Despite its ranking, Japan's largest automaker started conducting crash tests since the 1960s. More recently, it introduced the second generation of Toyota Safety Sense, a suite of active safety technologies capable of detecting pedestrians at night and cyclists during the day.
10. BMW - 33,87%
The Bavarian automaker started as an aircraft engine manufacturer. After the end of WW I, though, it switched to producing motor vehicles, and it's now the world's leading premium car company. A mere 0,09% earned BMW the lowest car reliability ranking instead of Toyota. The Bavarian motor company had damage to 33,87% of all models analyzed.
Second-hand beamers have their shortcomings:
ABS wheel sensors can fail
Various electrical malfunctions
Issues with correct wheel alignment
BMW's dead last ranking is confusing, partly because BMW is known for innovation. The German automaker even developed a safety and accident research program to help design safer cars. Sometimes, safety doesn't translate into reliability.
Are reliable used cars bought the most?
Evidently, the most reliable brands are not in-demand when buying a used car.
Most people avoid them like the plague. Except for Volkswagen, the Top 5 most reliable car brands are nowhere to be found among the most purchased brands.
Wondering why?
Well, the most purchased brands are a few of the largest, oldest automotive manufacturers in the world. They've poured millions into advertising, marketing, and building an alluring image of their cars.
People start to make favorable associations with the vehicle they see in films, TV, and the internet.
It's often the brand that sells, not the product.
Is the second-hand market of used cars reliable?
The second-hand market of used cars is a minefield for a potential buyer, especially due to mileage rollback.
Mileage rollback, also known as Clocking or odometer fraud, is an illegal tactic some sellers use to make vehicles appear to have lower mileage by rolling back odometers.
As you can glean from the graph above, the most purchased brands suffer from the most mileage rollbacks with used BMW cars totaling more than half the cases.
Odometer fraud allows the seller to unjustly ask for a higher price, which means potentially scamming buyers into paying extra for a car in a poor condition.
Not only that, but they could face thousands of dollars in repairs down the road.
Conclusion
Before buying, be sure to study the basic information about the car and consider car brands that break down the most.
The decision to buy a used car has a lot of weighty arguments that support this decision. The main plus is the variety of the assortment, since the used car market is quite developed and everyone can find options for various brands, models, years of production, and among them there are even almost new ones that have been in operation for less than a year.
Undoubtedly, the brands that have a reputation for reliability are anything but reliable, yet their cars are in high demand.
Sadly, the most reliable car brands aren't so popular.
If you're planning on buying a used car, do yourself a favor and get a vehicle history report before you pay thousands for a lousy ride.
---
---
---