As you plan a home remodel, you create a list of home improvements that may boost its comfort and hopefully value. However, not all home renovation projects are worth the effort and resources. For example, you may want to build a pool in the back of the house, but it's a controversial option because it comes with many safety issues.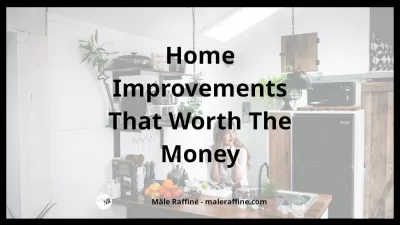 ---
---
Are you ready to renovate your house?
As you plan a home remodel, you create a list of home improvements that may boost its comfort and hopefully value. However, not all home renovation projects are worth the effort and resources. For example, you may want to build a pool in the back of the house, but it's a controversial option because it comes with many safety issues.
Also, you may not afford to spend thousands of dollars to renovate it, and you need every buck to worth the expense. If you plan to sell the house or head in that direction in the following years, you need to determine what improvements boost its value. A buyer always checks a house's amenities when debating if to purchase it or not. But how can you identify the  home improvements that worth the investment?  
Well, any home renovation should answer a need you or the buyer has. Any project that improves your life is worthwhile.
Why should you renovate your house?
If you don't have an answer to this question, then the following lines may provide it. Time wears and tears any construction and makes it uncomfortable to live inside. Also, if you intend to put the house on sale now that the housing market is on its way to recovery after a slump over the last months, you may want to renovate it to charm the possible buyers from the moment they step on the front alley.
Articles like the ones from  Remodeling   can tell you if your home renovation project can deliver a significant return on your investment. However, remember that the project cost varies according to the region where you complete it, and sometimes it differs even from a neighbourhood to another. You need to research the local market to ensure that the home improvements on your list are worth devoting your time.
Here is a list of home improvements significant enough to invest your money.
Stone veneer
You have no idea what stone veneer is, right? Don't worry; most homeowners have no idea what we're talking about. But even if you consider it alien technology, you shouldn't ignore the value it can add to your house. Manufactured stone veneer is a material created to resemble natural stone, but it has better characteristics. That's why some architects and interior designers name it faux stone. Manufacturers use cement and aggregates to obtain it, and it can come in a wide array of colours and patterns to meet the diverse requirements homeowners have.
Stone veneer has many uses, from  exterior remodelling   to interior design. Real estate professionals recommend using it instead of vinyl sliding to decorate exterior walls. Use it to decorate the portion of the house visible from the street or to create an archway. To make the house look more aesthetically appealing, you can also continue with the same material on the entry pathway. But for this job, you need to place water-resistant barriers underneath the stone veneer to prevent water from damaging it.
Install a new garage door
This home renovation project improves the space's functionality and boosts the overall look of the construction. Replacing the old garage door may not be a top priority, or you may not even include it on your home improvements projects list, but if you plan to sell the house, it can add real value and attract more possible buyers. It's one of the first things people see when they visit your home, and it should be in top shape.
Inspect it to find signs of wear and tear or damage. Even if it's fully functional, you can replace it simply because it no longer compliments the rest of the property. Most times, you cannot improve its look even if you apply a fresh coat of paint. When nothing works, replace it with a new functional one.
When buying a new model, look for one made of galvanized steel because it's lighter and sturdier. The latest models are made of steel and insulated with foam on the inside to prevent air from entering. A model with a lifetime warranty adds thousands of dollars to the house's selling price.
Kitchen remodel
We all know the saying, the kitchen is the heart of the house, and you can expect a possible buyer first to inspect it. But people's kitchen design tastes are different, and you cannot predict what the future buyer prefers. Regardless of the style, they may like, the kitchen should be functional and modern. Because kitchen remodels are pricey, you may need a loan to support your renovating efforts financially. Here is a list of the  best banks in Canada   to check their rates and compare the loan offers.
There's no bigger downer when visiting a house than an outdated kitchen because buyers also know that it's the most expensive room in the house to renovate. No one likes old cabinets, flashing colours on the walls, or a scratched countertop.
Spending too much money on remodelling a single room may scare you, but don't worry; you can do the job on a budget if you evaluate the kitchen's needs correctly. Start with the walls, and add a fresh coat of paint, preferably in a nude colour. Then inspect the cupboards and if they are visibly damaged,  change them with new ones.   Most times, you can repair and refurbish them to look modern and functional. You can replace their front doors to make them look brand new. If there are any old appliances inside the kitchen, take them out, and if you don't afford to replace them with new ones, don't settle with second-hand ones because the buyers can immediately spot used equipment.
When renovating the kitchen, consider the overall vibe of the house. When the house is decorated in a Scandinavian design, you cannot bring Mediterranean elements in the kitchen. Or you can, but only if you design the entire home as an eclectic property that mixes and matches different styles. But remember, most buyers prefer simple interiors, so it's best not to get too creative.
More about renovations
Builders advise to arrange repairs in the apartment every 10-15 years in order to reduce its general wear and tear. Psychologists recommend updating the interior every 5 years. But sometimes the apartment itself tells us that it's time to update it.
During the repair process, it is very convenient to search for building materials and products, furniture and appliances on the Internet on websites, in online stores. Here the prices are lower and it is more convenient to choose. In ordinary stores, rent of premises, utilities, the salary of the seller falls on your pocket. This is convenient for people living in the outback.
---
---
---