A leftover burger stored in the fridge for a night or a day can be reheated as a whole, without having to deconstruct it and reheat the bun separately.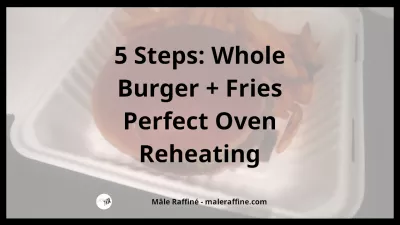 ---
---
Recipe informations
Recipe informations: This is the easiest, better tasting way to perfectly reheating any leftover burger and fries that has been stored in the fridge for no more than a day, only using a standard oven and a pan, with no burger deconstruction: the whole burger is directly reheated to perfection, and gets a warm heart bun.
Preparation time: 5 Minutes
Cooking time: 25 Minutes
Total time: 30 Minutes
Recipe yield: 1 Serving (number of persons)
Recipe category: Dinner
Recipe cuisine: American
Nutritional value: 1450 cal
Ingredients list
1 cold leftover whole burger
1 cold leftover french fries portion
Reheat A Whole Burger In Oven With No Taste Loss
A leftover burger stored in the fridge for a night or a day can be reheated as a whole, without having to deconstruct it and reheat the bun separately.
While most how-tos around will tell you to reheat to bun apart from the buns, and to perform some pretty difficult operations, it can actually be much easier than that - and require close to no food manipulation, anyone can do it!
So, how does it happens? To sum it, the whole burger can be reheated in the oven at very low temperature wrapped in aluminium foil, 70°C/160°F for about 25 minutes to warm up to the burger's heart, with a short few minutes high temperature heat at the end to finish giving it a warm feeling in your hands.
And the fries? They can also be as good as new by simply warming them up on a pan with a little bit of olive oil, and a regular stirring to make sure they don't burn up.
Let's see in details how it works out!
1. Do not deconstruct your leftover burger!
Starting with your whole leftover burger that has been stored in the fridge (if it stayed on the table counter for several hours, it might not be good anymore), just take it whole - no deconstruction needed.
2. Wrap up whole burger in aluminium foil
Then, simply wrap in aluminium foil your whole burger while the oven is warming up to reach 70°C/160°F.
3. Whole leftover burger perfect reheating in oven at 70°C/160°F
When the oven is warm, just put your whole burger in the oven and set a timer for about 25 minutes, which depends on your exact burger composition and on your oven: the thicker the burger, the more time it will need to warm up its heart.
4. Leftover french fries perfect reheating in a pan
About 10 minutes close to the end of the burger reheating, warm up a splash of olive oil on a pan, take your leftover fries, and put them to heat on the pan. Stir as often as possible to make sure that they won't burn and only get a nice crips.
5. Quick burger reheating at 180°C
At the end of your timer, leave your whole leftover burger in the oven and give it a 3 minutes heat at higher temperature, to give it a nice digital warm feeling.
6. Enjoy a reheated leftover burger with fries
Everything should be ready at the same time, simply put them back in the original container, and enjoy your warm leftovers reheated burger and fries, with a taste pretty close to the original one!
Perfect leftover whole burger oven reheating with fries
---
About the author - Mâle Raffiné
An international traveller with 55+ countries and a year long solo world tour, businessman and fashion industry consultant, he created this website to simplify fashion codes for everybody, while helping them looking like world class for the occasions that arise. 'Even a man can learn about fashion and refinement' 
---
---