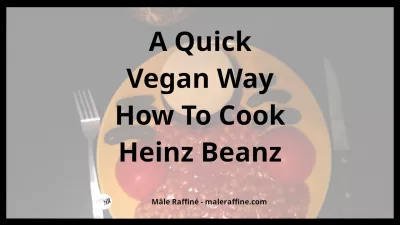 ---
---
Recipe informations
Recipe informations: An easy way to cook and accompany a can of Heinz Beans with fresh vegetables, a beetroot's steak, and a loaf of break to create a full vegan meal composition. Recipe is easily scalable to any number of guests and can serve as a man only lunch or as a formal dinner presentation.
Preparation time: 10 Minutes
Cooking time: 5 Minutes
Total time: 15 Minutes
Recipe yield: 1 Serving (number of persons)
Recipe category: Main Course
Recipe cuisine: Vegan American
Nutritional value: 770 cal
Ingredients list
1 can of Heinz Beanz
1 beetroot steak
2 plasters of vegan cheese
1 tomatoe
3 cornichons
1 load of bread
20g of ketchup
10g of spicy mustard
Heinz Beanz cans are a tasty and ideal way to eat already prepared beans as they are marinated in the famous and tasty Heinz sauce - all you have to do to cook Heinz Beanz is to open the can and warm up the content. You can even it just like that.
However, it can be fun and even tastier to make it a whole vegan and warm meal by adding a few more ingredients on the preparation, and preparing at the end a full vegan meal with a vegan steak, other fresh vegetables, and a loaf of bread.
The only inconvenient in this recipe, is that most of the Heinz Beanz cans available on the market contain sugar - however, a little bit of sugar from time to time isn't so bad, simply don't eat too much of it.
Now, place to an easy to make even for single men that don't know to cook vegan recipe that will ravish any bean lover!
1. Round up the ingredients
Start by getting all the ingredients you will want to add on the final plate, as the meal will be quickly prepared. You can of course change all of the vegetables and even the vegan steak by whatever is available to you. As we will warm up the Heinz Beanz it might be a good idea to keep at hand some cold vegetables to make it a balanced plate.
2. Start warming up the Heinz Beanz can
Empty the whole Heinz Beanz can in a pot and let it warm up on low heat. Stir occasionally during the next steps
3. Stir the Heinz Beanz while they warm up
Do not forgot to stir the beans occasionally to make sure that they do not burn, and lower the heat if it feels like they are getting too warm. They should warm up slower and longer to stay warm in the plate afterwards.
4. Warm up the vegan beetroot steak in oven
Start to warm up the beetroot steak in the ove at 180°C for 7 minutes. During this time, prepare the other ingredients like cutting the tomatoes and cornichons in smaller pieces.
5. Warm up the bread along the steak
At the end of the initial 7 minutes beetroot steak warming up, turn it upside down and add the loaf of bread. Depending on the bread thickness, a 4 minutes round in the 180°C oven should be enough.
6. Prepare the plate and serve
Put all the ingredients gracefully on a plate and serve. Add some condiments according to your own taste, and put the vegan cheese on top of the vegan steak to let it melt slowly.
A Quick Vegan Way How To Cook Heinz Beanz
---
---
---
---