Valentine's Day has its origins in the pagan customs of the third or fourth century BC and coincides with the Fertility Festival of ancient Rome. Over time, the festival has been Christianized and has become a festival more celebrating love than lust.
In 1537, King Henry VIII decreed, by the Royal Charter, that all England would celebrate Valentine's Day on February 14 and that the whole world would celebrate it now by exchanging cards and marks of affection. Of course, one of the most common gifts to offer to your sweetheart on Valentine's Day is lingerie.
Valentine's Day gifts must be marks of love and intimacy. The lingerie perfectly meets this requirement, giving the recipient a special feeling and bringing pleasure to the one who offers the gifts. A good Valentine's Day lingerie gift is also a thoughtful gift, which shows that you have taken the time to choose something that the recipient will appreciate.
While the obvious answer is "sexy lingerie!" Sexy does not necessarily mean slender flip-flops and bras just over there! A woman looks as sexy as she is in flattering underwear that is nice on the skin, improves her figure and is clearly of high quality. We are confident that you will find what you are looking for when you shop online with Ennia Lingerie. Sensual and chic underwear that can be worn on a daily basis, whether for a romantic meal or to make one's smile smile at work, are a much more thoughtful gift than a baby-doll with black feathers that will be worn. once and then buried in the back of a cabinet.
If you want to make the most of both worlds and buy sexy lingerie online for Valentine's Day, which will also become your favorite, why not try a deep red leavers lace lingerie set like our range Grace, and add a sexy pair of garters Grace to your order, or why not say it with flowers and order the beautiful set of Gabrielle Lingerie pink and very feminine, and include a thong for special occasions as well as a pair of traditional panties for every day? Gabrielle is currently being promoted so you do not have to spend a fortune to get exclusive quality lingerie when you buy Ennia.
Also, if you really want to impress, you can not miss out on the hugely popular Ilisha set, a stunning Valentine's Day lingerie set with red and fiery black and made from the most exclusive lace in the world. , Leavers. You can buy everything she needs in this range, because there are two options available for the thong and panties. You can also include the beautiful suspenders and garters that are particularly suitable for nightwear and special occasions.
The traditional colors of Valentine's lingerie are red, the color of lust and passion (Ilisha, Sara, Samantha, Grace, Fiesta and Greta inspired by the ardent passion of flamenco itself), white to white. pure and innocent call Rebecca, Marianne, Rowena, Natalie and the pink, the traditionally feminine color. The rose is also associated with Valentine's Day since the burial of Valentine's Day, when the pink almond tree came into bloom.
One of our most romantic lingerie sets should be the Anna range in dark gray with pink leavers lace candy. This range offers a full range of items, including cheeky shortie, chic French panties and a breathtaking top. We also offer beautiful pink sets in our items on sale. Both Lysette and Monique have exclusive leavers lace at incredible prices, which proves that in Ennia you do not have to spend a fortune to get the best European exclusivity.
You may consider buying color-matching lingerie for a special outfit. Danielle's range is really gorgeous and comes in sparkling champagne, Hannah comes in a fabulous blue or Crystalle features stunning fresh green embroidery. We also have fabulous lines with subtle and delicate floral patterns, such as the Alexa range with its tiny purple flowers or the Aphrodite with its pale blue flowers giving it an ethereal quality that would not disappoint the goddess of love and love. the beauty!
Men often like dark, sinuous undergarments, but know that if women like to be spoiled, most women are pretty practical at heart and if your sweetheart does not have a blouse or t-shirt. black shirt to wear over the sexy black lingerie, she would probably prefer something. a little more subtle so that she can enjoy your gift regularly!
Elegant women appreciate classic lingerie, but they also appreciate that you make the effort to choose something that suits them. Many younger women like to wear lingerie designed to be exposed with a sexy leavers lace edging to take off from a cleavage. Well-rounded ladies may prefer a full-cup bra than a pair of silky triangles held together by an elastic, and smaller ladies may like a bra that subtly enhances their figure. However, unless you know she wants one, most women prefer not to receive a wonderfully Valentine's Day gift! Ennia offers a wide range of styles of bras for every lady, from the balconette to the neckline enhancing the plunge bra to the padded bra that many women prefer to wear. The Joanna range now features a beautiful non-padded Leavers blue-gray lace bra to add to the already popular lingerie set. We also have a number of half-upholstered bras that can be an amazing compromise between padded and unpadded.
The straps are sexy and the Ennia straps are also very comfortable, but many women do not like the feel of thongs or thongs to wear everyday - if your wife fits in this category, why not try a pair of shorty in beautiful and sexy lace or our range of panties instead? (including thongs or thongs)
Lace is both attractive and luxurious, but be sure to choose a high-quality lace, like leavers lace, comfortable to wear and sophisticated - nothing is worse than cheap lingerie that scrapes against the skin or the skin. lace that shrinks when washing. You can find more information about leavers lace For more information on buying a lingerie gift, please see our information sheet on the link provided.
First because you deserve it! New underwear makes you feel sexy and if you feel sexy, you're sexy, so give yourself a new bra and panties, or a full set with garter belt and garters, and enjoy it for Feel sexy and sophisticated without spending a fortune!
You can also buy underwear for your Valentine's Day. Men love to buy their sexy lingerie for Valentine's Day, partly because they like to see you so amazing, so why not choose your own lingerie and impress them with your new look after (or during!) A sultry evening of Valentine's day. Lingerie to excite your partner should not be too expensive down if they like black lace lingerie or white bra and panties, you can buy quality lingerie in Ennia at a reasonable price that will put their impulses into the run.
If you still do not know why to check out all of our Full Lingerie sets, just click on the link to find something that will appeal to your partner.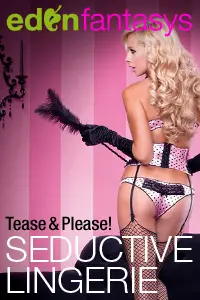 Similar articles
---
Comments (0)
Leave a comment