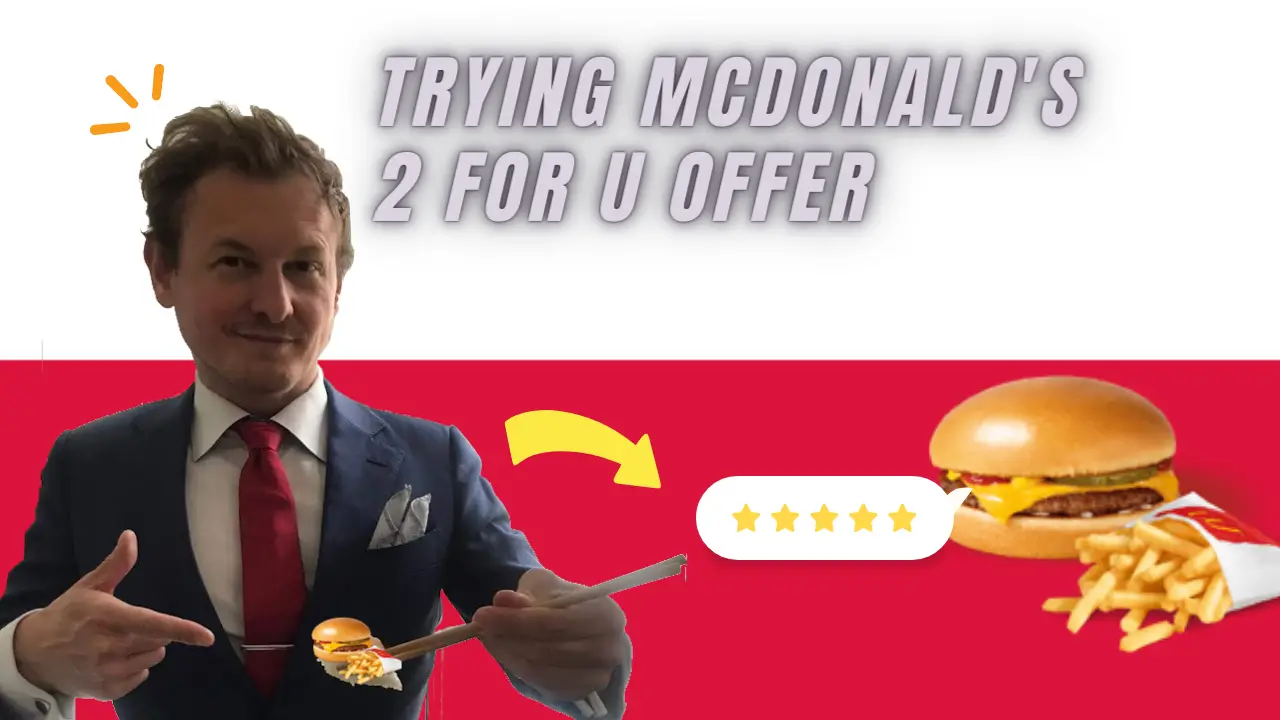 ---
---
In a world where value and convenience are paramount, McDonald's continues to innovate with offerings that resonate with the diverse tastes of its customers. The latest promotion, the 2forU offer, is no exception. With two distinct options catering to different meals of the day, here's an exploration of what makes this offer a must-try.
What's Included in 2 for U?
1. The Regular Option:
Burgers: From the classic taste of the Cheeseburger and Hamburger to the flavorful Chicken Burger, Chikker, and spicy Jalapeño Burger, the options are designed to cater to diverse tastes.
Sides: Crispy, golden fries cooked to perfection add a satisfying crunch to the meal.
Drinks: A choice of refreshing soft drinks ensures that there's a perfect beverage to accompany every burger.
2. The Breakfast Option:
McMuffin (Egg & Bacon): A fluffy egg paired with smoky bacon inside a warm English muffin provides a balanced breakfast.
McTost (Ham & Cheese): For those who prefer a savory start, the McTost combines ham and melty cheese in a perfectly toasted sandwich.
Hot Drinks: With options like freshly brewed coffee and soothing tea, mornings are sure to start on the right note.
Availability in Poland
The 2 for U offer is available at participating McDonald's outlets across Poland. The carefully curated menu options reflect the local taste preferences and aim to provide a satisfying meal experience for both residents and visitors. Whether in Warsaw, Kraków, or other major cities and towns, the 2 for U is within reach, enhancing the McDonald's dining experience in Poland.
Why the 2 for U Offer Appeals to Many:
1. Exceptional Value:
By pairing a classic burger with fries and a drink or adding a hot beverage to a breakfast item, the 2 for U offer provides a cost-effective way to enjoy a satisfying meal.
2. Versatile Choices:
With offerings tailored for both the regular menu and the breakfast menu, it suits the needs of customers throughout the day.
3. Culinary Variety:
The varied selection within the 2 for U allows customers to explore different flavors and combinations, enhancing the dining experience.
4. Convenient Availability:
Easily accessible at participating outlets, this offer is a convenient choice for those on the go.
5. Timely Opportunity:
As a limited-time offer, it presents a unique opportunity for customers to indulge in their favorite McDonald's items at a special price.
Ordering for the Office? Here's How:
Whether it's a midday treat or a special occasion at the office, McDonald's 2 for U offer is just a few taps away. Here's how to bring this delightful feast to your workplace:
1. Choose Your Platform:
The 2 for U offer is available on several popular food delivery platforms in Poland. Whether you prefer Uber Eats, Glovo, or Foodpanda, you can find McDonald's on your favorite app.
2. Select Your Location:
Simply enter your office address to see the nearest McDonald's that offers delivery to your location.
3. Customize Your Order:
Pick from the regular or breakfast options and customize your meal to suit your taste.
4. Confirm and Wait:
Place the order and track it in real-time as it makes its way to your office. With efficient delivery, your meal will arrive hot and fresh.
5. Enjoy with Colleagues:
The 2 for U offer isn't just a meal; it's an experience. Share it with your colleagues, or enjoy a well-deserved break on your own.
Ordering McDonald's has never been more convenient, and with the 2 for U promotion, your office lunch can turn into a culinary celebration. It's a taste of joy delivered straight to your desk!
Conclusion
The 2 for U promotion is not just another meal deal; it's an expression of McDonald's commitment to its customers in Poland. By offering a range of flavors at a reasonable price, it invites people to explore, enjoy, and indulge. Whether a resident seeking a quick meal or a visitor exploring Polish flavors, the 2 for U has something special. It's a taste of what makes McDonald's a beloved brand, both globally and in Poland. Don't miss out; experience the 2 for U at a McDonald's near you!
---
---
---
---