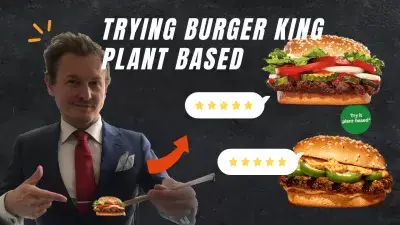 ---
---
The Burger King Vegan Review shows about 6 Vegan options available from Burger King.
Being Vegan means that you don't consume any animal products and when you are eating out it can take some planning ahead of your visit to make sure that there are suitable options for lunch/dinner.
When you visit Burger King you will find that different outlets offer various choices. Many Vegans say that the new plant-based whopper is not suitable for Vegans. On the UK website, it states that although plant-based it is cooked on the same cooker as the original Whopper to give it the unusual Whopper flavor, and this contaminates it with non-Vegan products. THE REBEL WHOPPER is said to be aimed at flexitarians, ( people who eat partly Vegan options but are not strictly following a Vegan diet). The Rebel Whopper itself is Vegan containing soy wheat, herbs, vegetable oil, onions, and Vegan mayo.
The Burger King Plant-Based Rebel Whopper may be a better choice, and Burger King was one of the first chains to adopt the Vegan Impossible Patty as part of their menu. Impossible Foods allows the Impossible Whopper to be completely Vegan, and so are the buns. The only thing that you have to worry about is the topping of tomato, lettuce, pickles, and mayo so check that the Mayonnaise is Vegan. In the USA you are able to request a non-broiler cooking method so that you know that your burger is cooked separately and that your Whopper remains Vegan. If they can accommodate your needs, you will go there often.
Vegan Hash Browns We all love our hash browns and they make a great choice to accompany your Burger as they are Vegan.
People who are non-Vegan also enjoy plant-based foods for a change, and in some outlets, you can get a custom-made Plant Based Chilli Cheese Burger, Be sure to ask for plant-based cheese and Vegan buns and no mayonnaise unless it is Vegan. The outlets all stock Vegan Burger patties, and if they have a separate broiler or grill, they should easily be able to make your Chilli Cheese Burger.
Vegan choices are now becoming more popular with many people eating both Vegan and non-Vegan foods.
Having created Plant Based Chili Cheese Burgers at home, I know the right chili sauce makes it, and Burger King has plenty of the best chili sauce.
For lunch with your burger, you can have fries, and check that they are cooked in vegetable oil. Ask for a garden salad (no cheese) to go with it and you have a healthy Vegan lunch. If you have the best Burger King outlet near you, it is worth eating there regularly. Menus tend to change a bit, but if you are a regular you can explain what you want.
Conclusion
Being Vegan can be an ethical dilemma, however, with some careful choice of restaurants and some planning you will be able to negotiate the pitfalls. Burger King now has some awesome plant-based choices.
---
---
---