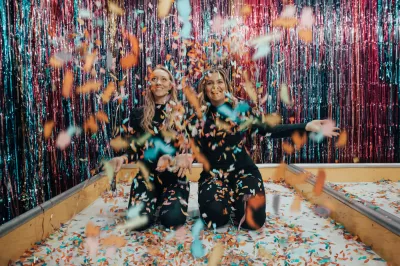 ---
---
Planning a party can be a complete hassle, and even hosting it can become tiring at some point. But worry not, we have got you covered with a useful list of things to take into consideration that will make planning so much easier. When everything is put in place, all you need to do is to enjoy it. It doesn't matter in which order you start planning, as long as you check all the boxes.
A party is a great way to see all your friends together in one place. But how to organize a party? If you plan everything properly, choose good food, music, carefully consider the list of guests and take care of all the little things, the party will definitely be successful and, perhaps, it will even become a tradition.
One of the most important things to consider when planning a party is choosing a place. Where do you want to have a party? Will it be a big event or a meeting in a close circle? Is it possible to have a party at your house or at one of your friends' houses? Do you have a place at a sign (restaurant, park)? Choose a place that would be suitable for what you plan to do.
1. Location, location, location
There is this trend of parties being held in specific locations, even in different countries. But this kind of parties come with certain difficulties, and the most important one is managing to gather all your guests.
Not everyone has the same possibilities when it comes to travelling, whether it is work schedule or budget-related. So, it is important you choose a location where everyone can reach easily.
However, for some people, it might still be difficult to get to your party. In this case, you might want to consider providing transportation. And before doing that, make a list of those who need it.
2. Food and beverages
This is an aspect where the most variety of options is needed. People have different tastes and preferences, and not to mention, some might even have certain allergies. Make a list of these unique preferences and make sure you have  good options for everyone,   such as vegetarian or vegan.
The first item on your to-do list would be to offer both alcoholic and non-alcoholic drinks when it comes to beverages. Even if it is a party, not everyone will want to drink alcohol. On the other hand, if your budget allows, you could have some customised cocktails. This works incredibly if you're hosting a themed party.
3. Decorations
Certainly, there is nothing more suitable to set the entire scene than party decorations. Regardless if you're going for a certain theme or just a laid-back party, this item is not the one to be overlooked. It is understandable you might want to spend more money on other things, so this doesn't need to be a great expense. Some decorations can be extremely inexpensive but still look gorgeous.
For instance, you could opt for DIY decorations, and there is a multitude of options. The most basic decorations can be turned into something amazing, such as ice-cream cone balloons, paper garlands or ribbon tassels. They can all transform a mere location into something that represents you and also looks great in photos.
So, if you're going for DIY decorations, you might want to look into buying enough of your needed materials and be cost-effective. For example, you can find  wholesale ribbons   at a good price. Even if you're left with a large quantity, you will always need ribbon when wrapping a present or for the next party you're hosting.
4. Music
Together with decorations,  choosing the right music   is obviously the most important aspect of your party. There isn't only one way of providing entertainment. You can make your own playlist, in case you want to make sure your favourite song will be played, especially if it's something specific no one has ever heard before. However, make sure you do this at least two weeks before the party, as you might end up down the rabbit hole when it comes to picking music.
Another option is to hire a DJ, or maybe a band is the preferred option. This also depends on the kind of party you're hosting. Perhaps it's a more formal setting, in which case maybe a band will set the scene better. Some say a DJ is the easiest option, however, make sure you have at least two meetings to confirm the playlists – and perhaps to add that favourite song of yours that might be quite unknown.
5. Photography
Do you know that feeling you get when you wish you had taken more photos? Forget about the stress of always making sure you're taking enough pictures to gather memories that last you a lifetime, and hire a professional photographer. It doesn't have to be a great expense, as you don't need the kind of wedding-level photographic artistry. Instead, you can hire someone with less experience, but you will be carefree. Also, think about all those candid photos!
Another  great way of making memories   is to rent a photo booth. They are an amazing, fun and engaging activity, and it is sure all your guests will love it, regardless of age, or the type of party you're hosting. Add amusing props, such as excessively large glasses, cardboards with different messages, and so on.
6. Theme
If a theme is what you desire, it is recommended that you go for consistency. So, from your location choice and decorations, to the way you display the food, a  themed party   can offer you the most amazing opportunities. For instance, if a party is 70s-inspired, you can choose having thematic drinks, such as extremely colourful cocktails with patterned straws, and a disco ball.
Another aspect you might consider when planning a  themed party   is to include some matching activities to go the extra mile in creating the atmosphere. Apart from providing the right music and decorations, an activity would be a great way of getting all your guests to interact, while creating a laid-back ambience. More often than not, you will end up having people who do not know each other, and that can create unnecessary tension. With this combination of personalities, an activity or game is an amazing ice breaker.
Bottomline
Every item on the list is equally important in creating the perfect party which will remain stuck into everyone's minds. And, whether you're on a budget or not, there are still things you can do to turn your party into an event difficult to forget. Make a note of every element on the list, apply it to your personality, and you're ready to plan the party of your dreams.
---
---
---