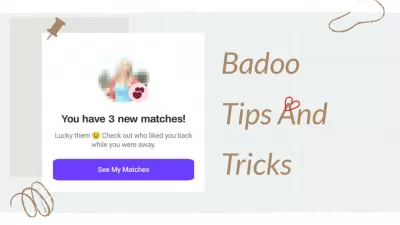 ---
---
Badoo is a social networking site that allows its users to connect with people worldwide. The site has been operating since 2006 and has over 350 million users. Badoo is available in 47 languages and is one of the world's most popular social networking sites. Many of which are looking for relationships. If you're one of those people looking for a relationship with Badoo, then there are some things you can do to increase your chances of success.
Below are some Badoo tips and tricks that can help you find love easily.
1. Add your best profile picture
You first must ensure that your profile picture accurately represents what you look like. Putting your best foot forward when trying to find a relationship is essential, which means having a good profile picture. You will not get as many matches if you don't have a good profile picture.
Badoo allows you to upload multiple pictures, so make sure you have at least one good picture of yourself. If you don't have any good pictures, consider asking a friend to take some for you.
2. Fill out your profile
Another important thing you need to do is fill out your profile. Badoo allows you to add much information about yourself, including photos and videos. The more information you add, the easier it will be for people to find and connect with you. It is crucial, to be honest when filling out your profile, as this will help ensure you find the best matches possible.
3. Creative openings
It would help if you tried to be creative in your opening message. If you can make her laugh, you're halfway there. But don't overthink it – go with what feels natural and make sure you're genuinely interested in what she has to say. You can use topics from her profile to get the conversation started.
4. Keep it positive
Badoo is an excellent platform for meeting new people, but keeping things positive is essential. No one wants to hear about your ex or how you're not looking for anything serious right now. Be open and honest about what you're looking for, but keep things light and positive, and you'll be more likely to attract matches that are the same.
5. Don't be afraid to take the initiative
Don't hesitate to send the first message if you see someone interested. It's always better to take the initiative than to wait and hope that someone will message you first. Just be sure to keep your first message light and friendly - you don't want to come on too strong right from the start.
6. Be proactive
Because of its vast number of users, it's easy to get lost in the shuffle on Badoo. To find a relationship on Badoo, you must be proactive and put yourself out there. Make the first move by sending messages to users who catch your eye. Don't be afraid to be bold and make your intentions known. The more active you are on Badoo, you will likely find a match. Make sure to log in regularly and interact with other users on the site.
7. Be interesting
You should ensure that you are as interesting as possible to attract more people to your profile. That means filling out your bio and including interesting information about yourself. You should also upload attractive and flattering photos of yourself.
8. Use Badoo Premium
If you want to get the most out of Badoo, you can sign up for Badoo Premium. That will give you access to features like:
See who has liked you.
See who has visited your profile
Boost your profile
Get more matches
With Badoo Premium, you will have a much better chance of finding a match on Badoo.
Conclusion
Badoo is an excellent platform for finding a relationship. Many people have found lasting love in Badoo. You can increase your chances of success by following the tips and tricks above. Add a good profile picture, fill out your profile, be proactive, and be engaging. You can also sign up for Badoo Premium to get more matches and access valuable features.
Use these Badoo tips and you will be guaranteed success. Whether it's to start a family or even just find a friend, these tips will help you with this. Good luck to you!
Top Badoo tricks to meet more people
---
---
---