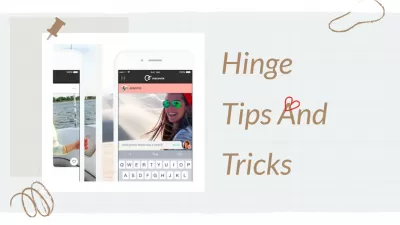 ---
---
When it comes to online dating, there are plenty of options. But if you're looking for something a little more serious, HINGE maybe your dating app. Hinge is designed to help you meet people through friends-of-friends on Facebook, so it's a great option when you want to meet someone who's already in your social circle. If you're looking to make a connection on Hinge, below are a few of the best hinge tips and tricks:
1. Make sure your profile is complete
A complete profile with photos and interesting information is more likely to get attention than a sparsely filled profile. So make sure to take the time to fill out your profile and add some good photos. A perfect picture matters, and If you don't have any good recent pictures, ask a friend to take some photos of you or look into getting professional photos done. This dating app allows you to upload seven pictures, and we have seen profiles with as many as 20. Users with complete profiles are 15 times more likely to get matches. Take time to write something interesting about yourself, and don't be afraid to show your personality.
2. Be active
The more you use HINGE, the better your chances of getting matches. So, log in regularly and swipe through as many profiles as possible. Active users on the app tend to have better luck finding matches. You can be active by liking profiles, starting conversations, and suggesting date ideas.
3. Use your discover settings
HINGE has a feature called Discover. That allows you to choose certain filters like location, age, and interests. You can be specific with these filters or leave them broader. If you're looking for a relationship, it's best to be specific with your filters. That will allow you to see people more likely to be compatible with you.
4. Be the first to make the move
HINGE allows you to like or comment on someone's profile. If you like someone, they will get a notification. But if you comment on someone's profile, they will receive a notification and be able to view your profile. So, to get somebody's attention, make the first move and comment on their profile.
5. Use the We Should Get Together feature
The We Should Get Together feature on HINGE is a great way to start a conversation. It allows you to suggest a date idea, which can be anything from grabbing a cup of coffee to going on a hike. And, if the other person is interested in your date idea, they can let you know, and you can start planning your first date.
6. Don't be afraid to message first
On HINGE, you can sometimes feel stuck in a rut of only getting messages from people you're not interested in. But don't be afraid to break the ice and start a conversation yourself. It could lead to you meeting your match. A guy you like doesn't message you, don't be afraid to send him a quick hello to get the conversation started.
7. Take advantage of HINGE's Most Compatible feature
HINGE has a feature called Most Compatible, which ranks the people you're matched with based on how well you get along. So, if you see someone consistently ranked as one of your Most Compatible matches, it's probably worth starting a conversation with them.
8. Use the Ask A Friend feature
If you're struggling to come up with something to say to someone on HINGE, you can use the Ask A Friend feature. This allows you to send a question to one of your Facebook friends, who can help you by answering it. The feature can be found in the More section of the app.
9. Date more than one person
If you're using HINGE to try and find a serious relationship, it's important to remember that you should date more than one person. This will help you figure out who you're truly compatible with and give you a better chance of finding someone serious about a relationship. So, go on some dates and have some fun. Who knows, you might find your perfect match.
10. Use the We Met feature
After you've gone on a few dates, you can use the We Met feature to let HINGE know how it went. This feedback helps the app's algorithm learn what you're looking for in a match and can improve your future matches. It will also help improve the app for other users to make better matches later.
Conclusion
Hinge is an inclusive dating app for people who want to ditch dating apps for good. This means we are for real people like you who want to date and find relationships in the real world. Use the above Hinge tips and tricks and find your soul mate.
HINGE is a great dating app for people looking for a serious relationship. The secret to success on the app is to be active, use your discover settings, make the first move, and take advantage of Hinge's features. And, don't forget to date more than one person. With the above, you'll be on your way to finding your match in no time.
---
---
---