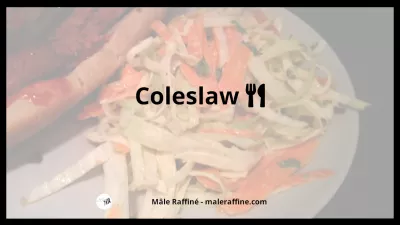 ---
---
Recipe informations
Recipe informations: Coleslaw is an easy to prepare vegan dish that can accompany nearly any meal either as a side salad in case of burger or other sandwich preparation, or as an ingredient, replacing a vegetables mix, for any stir-fried preparation, sandwich, soup or or meal. It is very versatile, easy to prepare, and will impress your date and ravish your guests!
Preparation time: 10 Minutes
Cooking time: 10 Minutes
Total time: 20 Minutes
Recipe yield: 4 Serving (number of persons)
Recipe category: Side dish
Recipe cuisine: Dutch / European
Nutritional value: 978 kcal
Ingredients list
1 cabbage, no exterior leaves, shredded
4 carrots, peeled and shredded
50 grams of fresh parsley, chopped
200 ml vegan mayonnaise
2 tablespoons apple cider vinegar
2 tablespoons mustard
1 pinch of salt
1 pinch of pepper
Ending up with a whole cabbage and some carrots leftover, I was wondering what can I cook with them for a while. And the answer was actually pretty simple: what about this very famous salad, present in Eastern and Central Europe as side dish nearly everywhere, the Coleslaw?
But even after deciding to try myself following a Coleslaw easy recipe, this second question popped up: once ready, what to eat with Coleslaw? And as I was looking for answers, I realized that Coleslaw is actually so versatile, that it can be used either as a side salad for nearly if not all dishes, but moreover can be used as a cooking ingredient for... nearly anything stir fried or cooked!
On top of that, it can easily be stored in the fridge for a few days and eventually up to a week, giving you plenty of time to find out what to eat with your Coleslaw and how to use your Coleslaw to accommodate other meals.
So, let's see in detail a Coleslaw easy recipe with pictures, after having tried to list everything from the top of my head that you can eat with Coleslaw, as one salad serves 4+ persons, and you will most likely end up with leftover to reuse in other dishes later.
What to eat with Coleslaw? A non-exhaustive list
Side salad for a baguette-burger,
Include it as an ingredient in any stir-fried recipe,
Perfect side dish for any kind of steak,
Burger side - in particular after a burger reheating it will add a crisp,
Include it as vegetables in your own tacos or burrito,
Add it to a vegan lavash bread burrito-style preparation,
Along Heinz beanz and any protein you like such as a steak,
My favorite: use it in your home made pad Thai style stir-fry,
Other favorite: use it your home made ramen style preparation.
There are plenty of easy ways to reuse Coleslaw, in vegan recipes or not, and is an easy meal to prepare even for a gentleman that doesn't know to cook - and it will surely impress any of your date!
But how to prepare it? Let's see a full recipe.
Coleslaw easy vegan recipe: cabbage carrot salad
1. Round up the ingredients, prepare cabbage
Start by getting all the ingredients together. The cabbage is the first to prepare: get rid of the outer leaves, and any leaf that doesn't look nice, and cut it into half, then cut each half in two. Cut out the core, the hard white part, to have only leaves remaining.
2. Shred the cabbage in small pieces
Shred the cabbage in small pieces, either using a knife or a food processor. The smaller the pieces, the more difficult it will be to include them in other dishes. For example, if you plan on using it for your stir fry, you'll need long cuts. If you plan on including it in your burgers only, a very thin cut might be better from the get-go.
3. Peel and shred the carrots
Try then to make similar sized carrots cuts, using a vegetable peeler or again a food processor.
4. Add chopped parsley, mix
Add the chopped parsley on top of the cabbage-carrot combination, and mix them together a bit.
5. Prepare the sauce on the side
On the side, prepare the sauce by simply mixing all ingredients together in a bowl: add the mayonnaise (vegan one has less calories!), then the apple cider vinegar, top it with mustard, add a pinch of salt and pepper, mix it well, and taste. Add apple cider / mustard / pepper as necessary until it fits your taste.
6. Add the sauce to the vegetables
It is now time to add the sauce to the vegetables mix, and stir them together until obtaining your final product.
7. Ready to use Coleslaw
Once the sauce and vegetables have been correctly mixed together, the salad is ready! You can either eat it right away, or let it cool down in the fridge: after a few hours, vegetables will impregnate themselves with the sauce, releasing the full flavor.
8. Meal ready! Beyond baguette burger with Coleslaw side
You can finally use your Coleslaw for any meal you like, this great salad being amazing at so many things! For example, as a side of a French-style baguette vegan Beyond baguette burger, simply with a burger, a baguette, a few cornichons, and a splash of ketchup. Do not hesitate to be creative with what to eat with Coleslaw as it can be used in so many ways!
What to eat with Coleslaw? Cabbage carrot salad recipe, easy and vegan
---
---
---
---