Since Xiaomi has been playing hard to get, it's better late than never. It releases the Mijia Cooking Robot, a kitchen robot designed in the mold of the original Thermomix.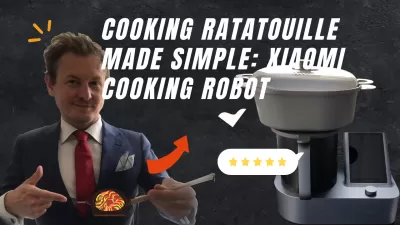 ---
---
MIJIA is a popular sub-brand of Chinese tech giant Xiaomi, known primarily for its smartphones but also offers a wide variety of other products, such as smart home gadgets, scooters, and other appliances. Unfortunately, only some Chinese-made goods make it to the global market. One product, however, has recently left China. Following its debut in Denmark, Xiaomi is expanding the availability of the MIJIA Cooking Robot to the rest of Europe.
How good is the Xiaomi Mijia cooking robot?
You can use the intelligent kitchen appliance from Xiaomi for more than 35 different tasks, such as washing, chopping, and grinding spices. You may also use the device to measure ingredients with the help of an intelligent cooking algorithm. It has four separate cooking areas, so you may stew, boil, grill, and steam up to four different dishes at once, as claimed. Making visually appealing meals has likely always been more complex.
The appliance can hold up to 2.2 liters of liquid, heat to a maximum of 180 degrees Celsius (356 degrees Fahrenheit), and spin at a maximum of 12,000 revolutions per minute. An 8-inch (203 mm) touchscreen is provided with the robot so that you may browse recipes and customize its settings. You can also use voice commands to manage the gadget.
How does it compare to Thermomix?
For quite some time, the Xiaomi firm has been releasing devices and items of varying kinds, each of which is of high quality and affordable to many customers. Even though it's only available in China now, the new kitchen device looks set to become a formidable challenger to well-established brands such as Thermomix.
You can now buy Xiaomi's Mijia Cooking Robot in European Union countries. Thus far, the product has been introduced in Germany, where it is sold for the equivalent of $1,263. Compared to its main rival, the Thermomix TM6 Noir, which sells for €1,399 ($1,472) in Germany, this pricing is a tiny reduction.
Currently, the distinctions are more nuanced, such as with engine power. More than twice as fast as the Thermomix TM6, the Xiaomi Cooking Robot can reach a maximum of 12,000 rotations per minute.
Now, concerning the topic of service. It's not the same here in other ways. Xiaomi Smart Cooking Robot boasts an 8-inch touchscreen, making it easier to see and use than the smaller touchscreen on the Thermomix.
Take away
If you're looking for something different than a traditional stove, the MIJIA Cooking Robot might be worth a look. In every case, the appliance produces delicious results in the kitchen. All of you who could be better in the kitchen will find it to be a fascinating read as well. Robots come with many recipes and how-to videos, and you can always add new features and improvements. In this way, it'll be a novel addition to many people's kitchens.
★★★★⋆
Xiaomi Mijia Cooking Robot
 The device has a beautiful sleek design, is easy to clean, embelishes a kitchen, and is simply making great food with very limited efforts, all for a great price. While the software can be improved a bit, it will surely happen in the next months and come with plenty of creative innovations.
---
---
---