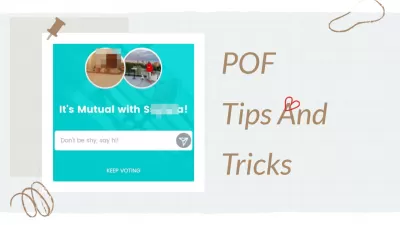 ---
---
Plenty of fish dating app is one of the world's largest and most popular dating sites. With over 150 million users, it's no wonder that plenty of fish has gained a reputation as being one of the best dating sites. But, with so many users, it can be tough to stand out from the crowd and find a meaningful connection. You're looking for love, but you don't want to waste your time on endless dates that go nowhere.
POF is a platform for finding a partner or meeting other people. , which is available worldwide and allows you to communicate with all types of singles. Thus, this web portal is one of the main ones when it comes to meeting new people and organizing a meeting with them. For a more successful stay on this platform, you need to use POF tips.
Below are some PlentyOfFish tips and tricks to help you find a relationship:
1. Make your profile stand out
Your profile is your first impression on Plenty of Fish, so you want to ensure it's a good one. Use high-quality photos that show you in your best light, and avoid using filters. Write a catchy headline and include information about yourself that will make people want to learn more. Be honest and open about who you are and what you're looking for in a relationship. The more genuine and authentic you are, the more likely you are to attract someone who's a good match for you. In this app, you are allowed to add up to 8 pictures, so make sure to upload some excellent and attractive photos of yourself.
2. Take advantage of the search filters
There are a lot of users on Plenty of Fish, which can make it tough to sort through all the profiles and find people you're interested in. But, the app offers a variety of search filters that can help you narrow down your options and find people who meet your specific criteria. You can use the filters to find people who are close to your age, have similar interests or live in your area.
3. Use the meet me feature
The meet me feature on Plenty of Fish is a great way to find potential matches. You'll be shown a list of users who meet your search criteria when you use the feature. If you're interested in any users, you can send them a message to start a conversation. This way, you can get to know people without having to message them first, which can save you time and help you weed out any potential matches that aren't a good fit.
4. Message multiple users to see who responds the quickest
You should message multiple users to see who responds the quickest. That will give you an idea of who is interested in you and who is not. The more you message, the better your chances are of finding someone interested in you.
5. Don't be afraid to be picky
If you want to find a relationship on Plenty Of Fish, you must be upfront about what you're looking for. Don't be afraid to be picky and only message people in who you are interested. Don't play games or lead people on – be honest and genuine from the start. The more specific you are about what you're looking for, the easier it will be to find matches that meet your criteria.
6. Keep your options open
Even if you have a good feeling about someone, don't put all your eggs in one basket. Keep your options open and continue to message other users. This way, you'll increase your chances of finding someone you're compatible with and who is also interested in you.
7. Be patient
Don't expect to find your perfect match right away. Finding someone who is a good fit for you can take some time. You have to kiss many frogs before you find your prince. So, be patient and keep looking.
8. Ask for a date sooner than later
It's easy to get lost in messaging and never meet up in person. So, if you're interested in someone, don't wait too long to ask for a date. The sooner you do, the better your chances of things working out. Put yourself out there, and send them a message if you're interested in someone. The worst they can do is say no, and then you'll know for sure and can move on. When you're messaging someone, be yourself.
Conclusion
To find a relationship on Plenty Of Fish, it's essential, to be honest about what you're looking for, proactive, and patient. With the help of plenty of fish tips and tricks we provided above, you're sure to find success . So, what are you waiting for? Get out there and start messaging people.
---
---
---