---
---
With bathing suit season quickly approaching, women everywhere are looking in the mirror. We're all asking if we're going to be able to pull off a bikini this year.
Isn't it funny how age and weight have such an impact on so many areas of our lives? They impact how we dress, what restaurants we choose, and even our life insurance rates.
I mean, think about it a minute. You don't hear women stress over their weight more than when summer is looming. The goal is to look amazing in the perfect bathing suit.
Women spend weeks trying to get down to their idea of the perfect weight to look good for everyone else who was busy doing the same thing.
Keep this in mind while stressing over whether or not your behind looks too big in your bathing suit. 
Everyone sitting on that beach or around the pool with you is thinking the same thing: does this bathing suit look good on me or do I look fat?
As women age, their style and taste change, even for swimwear. But no matter their age, women want their swimwear to be flattering and provide  the perfect fit   in all the right places.
And unfortunately, finding the appropriate beach fashion is more difficult than it looks.
Choosing a swimsuit is always a difficult task. And for older women, this turns into a real nightmare. We will provide you with tips and advice on choosing older womens swimwear. This is really not a problem if you take into account all the points and choose the right swimsuit. As a result, for example, the correct shape of the bodice will delight others.
This is relevant in connection with the age characteristics of women. To emphasize the beauty of the figure and hide the imperfections of withered skin or excess body fat, you can use older womens swimwear.
Itsy-Bitsy, Teeny-Weeny Suits
Things are changing in our culture, and women are becoming increasingly comfortable in their own skin. These days it seems like swimwear is getting smaller. This is evidenced by the number of women wearing thong bikinis.
If you can pull it off, then more power to ya. But for older or mature ladies, thong bikinis may not be as acceptable.
Fashion-forward swimwear doesn't have to mean less material. Fashion comes in all sizes and sometimes more coverage is better.  Fashion-conscious women   understand that more is less.
However, finding perfectly fitted swimwear that you feel confident and comfortable in can be tricky for a number of reasons.
It is no secret that the older we get, the more our bodies change and not necessarily in flattering ways. Older women may feel more comfortable in their own skin if more of their skin is covered.
But don't be discouraged. Older ladies, get ready to make a splash this season.
One-Piece Wonder Suits
It has become common in recent years to see older women in swim dresses and tankinis. Tankinis are similar to one-piece suits but, as in the case of swim dresses, they provide more coverage than a bikini.
Tankinis are also popular among the other generations. Tank-top swimwear isn't as form-fitting as one-piece suits tend to be so it is easier to hide curvy stomachs.
The problem with all swimwear is that the fabric stretches when it gets wet and may sag in not-so-flattering places.
Even swim dresses have skirts that cover the thighs when dry but end up with skirts to the knees when wet. But swim dresses are still a flattering option with more coverage than one-piece suits or tankinis.
Another common theme for older ladies is wearing swim dresses or tankinis with swim shorts.
Swim shorts are comfortable and look like sportswear for the water. Don't confuse swim shorts for swim trunks. Shorts are generally shorter than trunks, form-fitting, and slightly resemble the popular and current style of girdles.
Top Heavy Body Types
Another potential problem area with one-piece suits is the chest area. Let's be real here. Once you have children and are sporting a little grey on your head, "the girls" just aren't as perky as they were in your twenties.
And unfortunately, there is generally a lack of support in the bust of swimsuits which can be quite noticeable. We have all seen ladies pop up out of the water only to immediately have to adjust "the girls."
Making swimwear that covers the bottom as well as supports the top should be the next great wave of beach fashion. This is especially true for plus size swimwear.
It would also be great to do away with horizontal stripes too. Talk about unflattering for the horizontally-challenged!
Don't Be Fooled by the Monokini
Are you familiar with the monokini? It is a one-piece swimsuit that is missing too much material to be an actual one-piece yet has too much material to be a bikini.
Think of a one-piece that has deep cut-outs, usually on the sides, and you will have a monokini.
For older ladies who are still slender and fit, this may be a great option for those hot summer days. But again, not the most flattering style of swimwear for those of us who carry a lot of junk in our trunks.
However, if you are lucky enough to still be an older, fit hottie, there are some beautiful monokinis to consider that come in many colors, patterns, and sizes.
You may notice, though, that there's not much more fabric than a bikini.
Plus Size and Proud
Being plus-sized doesn't mean that your choices should be limited. Plus-size fashion should be flattering, accentuate the best attributes, and provide needed support in the trouble areas.
The worst beach look is being in a wet, saggy, striped swim dress with the girls hanging to your belly button with no support. Swimwear should fit your measurements.
Ladies shouldn't have to choose the best fitting fashion by choosing the lesser of two evils. That means you shouldn't have to choose a swimsuit that fits in the bust but is loose at the bottom.
It shouldn't be give and take. Comfort, coverage, and curves should be the theme of the next fashion trend for swimwear.
Whether you are an older lady or a fuller-figured bombshell, you are gorgeous the way you are.
Don't settle for unflattering swimwear. Instead, find your perfectly flattering fit and take the beach by storm this year.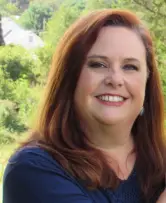 Robyn Flint, CompareLifeInsurance.com
Robyn Flint writes for CompareLifeInsurance.com and has an MS in Clinical Mental Health Counseling. She is an older, plus-sized lady who is frustrated with swimwear. Additionally, she is a licensed realtor, a freelance writer, and a published author. 
---
---
---